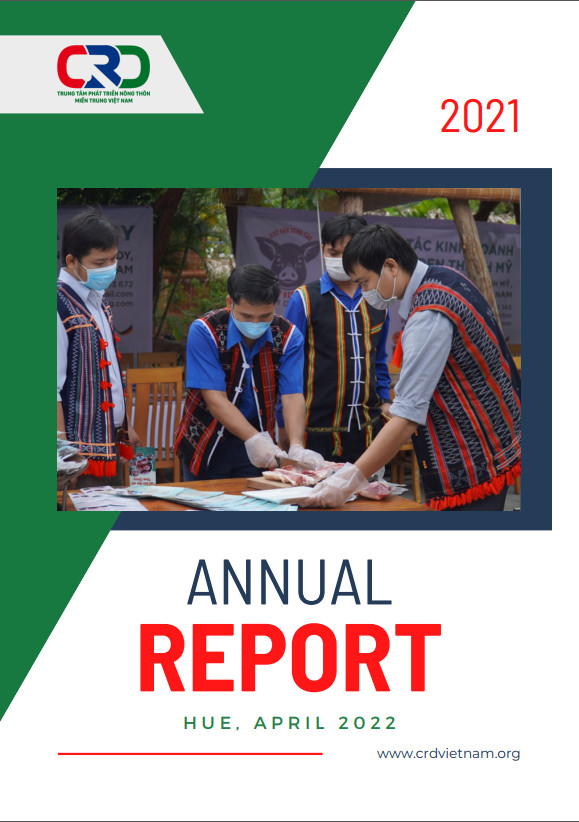 First of all, I would like to send our warm greetings to our donors, partners, and all of the readers!

Center for Rural Development in Central Vietnam (CRD) has been established for 26 years and now we continue with the mission of research, training, technology transfer, and policy advocacy in the field of agriculture and rural development to improve livelihoods, protect the ecological environment, promote democracy and social equality.

Even though 2021 was full of many difficulties and challenges due to the COVID-19 pandemic, CRD has successfully implemented 13 projects in 07 provinces/cities,
contributing to improving the lives of the poor, ethnic minorities and vulnerable groups, especially women and children.

Our projects focus on technology transfer in production, branding, enhancing product value, and connecting products to consumers. The models of black pig breeding, cooperative groups and cooperatives of black pork processing, etc. have contributed to improvements in the people's income. Livelihood models under natural forest canopy have not only contributed to raising income but also encouraged people to actively participate in patrolling and forest protection. Ethnic minority communities have had access to methods of managing, using and benefiting from allocated land and forests, and have been able to eliminate poverty through land use planning. Training courses and guidance on community-based climate risk and disaster risk management have enhanced resilience to the impacts of climate change for vulnerable coastal communities in Vietnam. Child protection has been integrated in CRD's programs and projects. Through a series of activities and events, children in the project areas have had the opportunity to express their aspirations, to be listened to and responded to by social organizations and state agencies.

Looking back at 2021 in the context of the Covid-19 pandemic negatively affecting all aspects of life and society, CRD has made great efforts to effectively carry out all activities. On behalf of the CRD, I would like to express our sincere gratitude to the donors, state management agencies, partner organizations, colleagues and beneficiaries for your trust, accompany and support. We look forward to our continued cooperation to make more contributions to the community and society in the coming year.
CRD Director
Dr. Truong Quang Hoang
Please find more details in the attached file.